Beautiful and Unique Websites for Escorts, VIP Companions and Adult Entertainers
Tons of Experience
We have been providing exceptional escort website design services since 1995 and have earned an outstanding reputation from independent escorts, escort agencies and industry juggernauts such as Eros Guide. Our custom crafted website designs are easy to navigate, classy and very affordable.
As an independent escort, your website should be as unique as you are! It should reflect the image you want to present to the World. While you are encouraged to tell us the features you like from other escort websites, we pride ourselves on creating unique compelling web designs based on your specific online needs and goals. A beautiful website, without ads, tells potential clients that you take your work seriously and professionally.
We build "responsive" web sites to work on all devices (desktop to smartphone), and to be search engine friendly to give your website the best chance for decent rankings in the top search engines. In addition, we build our websites for easy hassle free maintenance. You can maintain yourself using our FREE CMS tool, or we will gladly do it for you for a nominal fee.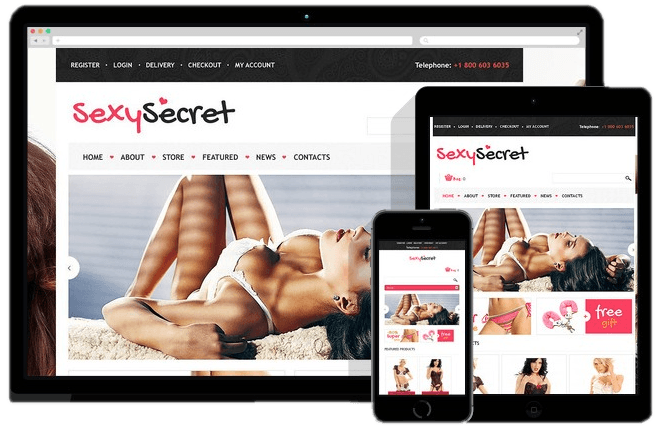 A Responsive Website  automatically adjusts to make your web page look good on all devices (desktops, tablets, and smart phones), and is optimal for Google search rankings. You can test your current website here.

Unlike many of our competitors, we DON'T take a cookie-cutter approach or simply tweak templates. Your escort website is hand-crafted using the latest cutting-edge tools.
Your website should be as unique as you are.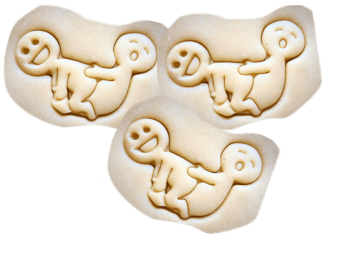 Escort Web Design Portfolio
OUR PROMISE
While your escort website should be a reflection of you, it is also a reflection of us and our work. Therefore, we are not satisfied until you are, so we have a 100% Satisfaction Guarantee!!!
Unlike many of our competitors, your site will be designed from a "male perspective". We know how men think, what men like to see, what looks attractive and what motivates them to become clients.
Website Design
Our websites are custom crafted, beautiful, sexy and functional. Our development framework uses the most advanced state-of-the-art responsive technology. From desktop, tablet, or smartphone your website will display and operate perfectly.
Anonymous Domain Registration Hosting
For safety and convenience, we offer private domain registration and can host your escort website. Your information is kept private and secure. Hosting with us is completely optional. If you choose NOT to host with us, you are welcome to make your own arrangements provided that is approved for adult content and meets our minimum requirements.
Legendary Support
Our job doesn't end once your website is launched. While you are welcome to maintain your own escort website using our user-friendly FREE CMS tool, we understand you don't always have the time to do so and will gladly do it for you for a nominal fee.

Banners & Graphic Design
First impressions count! We don't just build you a beautiful website, we create:
unique logos to support your brand
compelling escort banners for use in your marketing and advertising
design beautiful twitter headers to enhance to social media
We Provide Maintenance for Veda Designs and Cuties-Tools Websites
Many clients come to us because they simply don't have the time, patience, technical background to maintain their own website. Fear not!!! We provide support and maintenance of websites that we did not build. We are very familiar with the VedaCMS tool created by Veda Designs and currently maintain such websites. We are also very familiar with other such Cuties-Tools and several other template style CMS tools.


Time is Money!
No tickets to submit, no waiting period, no kidding!!!
Call us, text us, email us any time.
Website Design Packages & Pricing
To help make the task of selecting what features and services you need a bit easier, we have bundled together our most popular features into several escort website packages. Choose a package that works best for your needs and budget.
Standard Features Included with ALL Packages

Logo Design
Splash Disclaimer Page (NA for One-Page-Wonder)
Home Page (NA for One-Page-Wonder)
Responsive / Mobile Friendly
Meta-data for Search Engines
468 x 60 Banner (non-animated)
FREE CMS Tool (upon request)
No Right Click/Copy Script Installed
FREE Website Hosting (1st year)
Live Support 7 Days a Week
One Page Wonder (1 page w/ sections) - $600
5 sections: Ex. about – rates – gallery – contact – links
Photo Gallery (up to 8 photos)
The Flirt (6 page escort website) - $750
Home Page
4 Additional Pages (w/ 3 sections/page max)
Photo Gallery (up to 20 photos)
The Diva (8 page escort website) - $950
Home Page
6 Additional Inside Pages (w/ 3 sections/page max)
Touring Calendar
Appointment / Booking Form
Photo Gallery (up to 40 photos)
Social Media Integration
The VIP (11 page escort website) - $1650
Home Page
9 Additional Inside Pages (w/ 3 sections/page max)
Touring Calendar
Appointment / Booking Form
Newsletter Sign-up / Management
Photo Gallery (up to 40 photos)
Meta-Tags required for Search Engines
Submission to Major Search Engines
CCBill Join Page
Members Home Page
Member Photo Gallery (up to 200 photos)
Member Video Page (up to 3 video clips)
I searched for a long time on the web before making the decision to hire Escort Web Design for both the creation of my web site as well as my search engine optimizing and my entire marketing campaign. I've tried several web masters in the past and the return on my investment was never up par; I always felt taking advantage of because of the stigma surrounding the escort business. From the first contact with David I felt honesty; his understanding of the industry, his creativity and his skills to market my site exceeded by far my expectations. He is always prompt to reply to my questions and guide me towards what we all want… profit!
Sensual Amira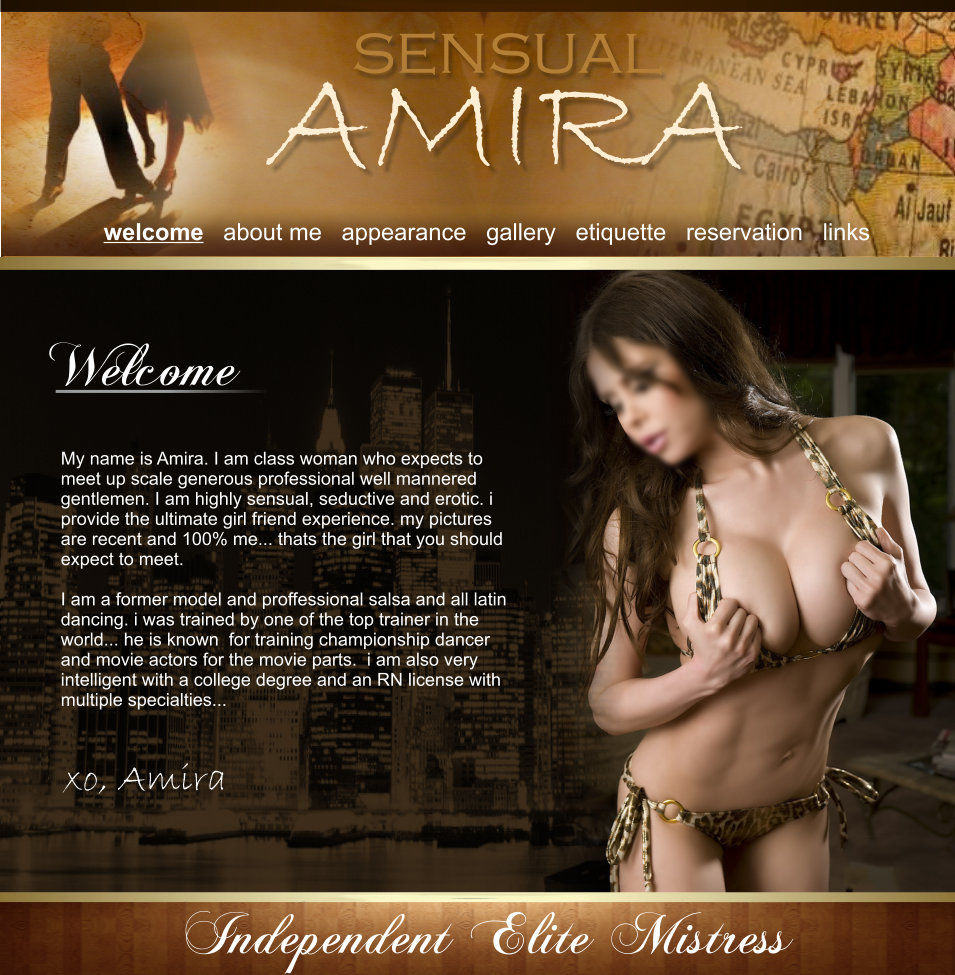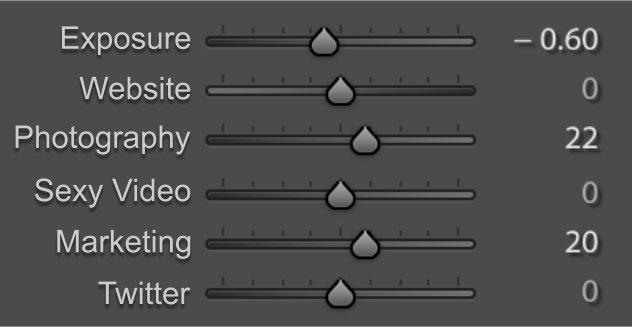 Bundle Up and Save!!!
10% Off Any Two Services

18% Off Any Three Services

30% Off Any Four or More Services